WELCOME!
Rogue Valley Kennel Club is an AKC Member Club – in existence since 1967
---
Rogue Valley Kennel Club and Southern Oregon Kennel Club
invite you to the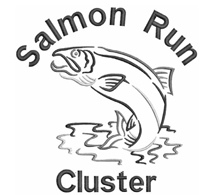 Second Annual Salmon Run Cluster
November 2, 3, 4, 5, 2017

Saturday Symposium: on (surprise!) Saturday, November 4th
Sponsored by Pure Dog Talk and Cook Photography
The Winning Edge: Condition, Grooming, and Presentation
and afterward, put your hush-puppies on and join us for a 'Jimmy Buffet' buffet dinner
*  And, there is more!  *
there will be various classes all throughout the day Saturday
(See Premium List for details!)

Just added:
Rogue Valley Kennel Club is pleased to host a DEALING WITH MISCONDUCT program conducted by Brian Martin, AKC Field Rep.  This program is important to those putting on dog shows AND to exhibitors as well.  Learn what constitutes misconduct and how to handle such issues as a club may encounter.  Learn what is expected from exhibitors involved.
A question & answer opportunity will be available.
All are welcome.  There is no charge to attend.
DAY:  FRIDAY evening, NOVEMBER  3rd,
TIME: 1/2 hour after Best In Show
PLACE:  Arena building upper level
Light refreshments available or bring your own
Questions?  Contact Sharon Weston at Showmal@aol.com
Information will be in the Judging Program
---
We support the responsible owning, breeding, and exhibiting of purebred dogs.
We support the proper care of all dogs.
We encourage and participate in many varied dog activities.
We promote education for everyone on all aspects of responsible dog ownership and the sport of purebred dogs
We host annual sanctioned events and competitions for AKC breeds and mixed breed dogs listed with the AKC, demonstrating and promoting good sportsmanship at all times.
Yes, Handling class is going to be held tomorrow, Tuesday, October 17th
Thanks to Kathy Hinds for filling in as class leader!
---
**** The Handling Classes have started! ***
NEW PROCEDURE:
Each week the class is subject to change so please check right here on the RVKC Website 24 hours prior (that would be on a Monday)  to make sure class has not been cancelled or to see if there is any time change.
The more people attending the classes, the more likely they will be held.
WHEN:
They will be the first three Tuesdays of the month at 7 PM
LEADERS:
Kathy Martin 1st Tuesday
John McLaughlin 2nd Tuesday
Michelle Santana 3rd 
Tuesday
DONATION:
A $3.00 donation is requested per class. The 4-H Pooch Paw Raiders provide the practice space as a fundraiser. This money goes to the 4-H group so please donate. (That means the wonderful class leaders do this for the love of the sport.)
DOGS:
Please make sure your dogs are clean and that they are current on vaccinations and are showing no signs of any illness.
WHO MAY COME TO CLASS:
Anyone wishing to practice their Conformation ring performance and socialize their dog to the Conformation ring. If you know of non-members who are interested – let them know about the classes.
HELP:
The class leaders need volunteers to come and help them with the  class. This is easy and fun. If you can volunteer for just one class a month it would help so much. The leaders can show you what to do.
---
Handling Classes
Handling Classes are starting up again.
The first 3 Tuesday evenings of each month at 7:00pm
at OSU Auditorium at 215 Ringuette St. in Grants Pass
$3.00 donation requested for each class – goes to the 4-H program
More information…
General Meetings
the second Wednesday
of each month 7pm
at the Fruitdale Grange
1440 Parkdale Drive, Grants Pass
** Program information in announcements above **
More information…
Rogue Valley Kennel Club Speaks
our monthly column
in the Grants Pass Daily Courier
More Information…
Contact Us
Rogue Valley Kennel Club P. O. Box 2018
Grants Pass, Oregon 97528
Contact Us…
RVKC is on Facebook (link is above in header)
---