WELCOME!
Rogue Valley Kennel Club is an AKC Member Club – in existence since 1967
---
Rogue Valley Kennel Club and Southern Oregon Kennel Club
invite you to the third Annual Salmon Run Cluster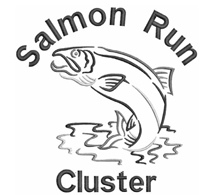 November 1, 2, 3, 4 2018at the Expo in Central Point, Oregonan MBF show
---
NEWS ALERT
ONE DOG IN GRANTS PASS HAS CANINE INFLUENZA
Canine Influenza (Dog Flu) is a very contagious viral respiratory infection. Dogs and some cats can catch it.
Spreads by:
Direct contact between dogs – nose to nose (Dog parks and where there are many dogs.)
Through the air – from coughing and sneezing
Contaminated objects – like clothes, toys, water bowls, leashes,  human hands. Virus lives from 12 – 48 hours on objects (!)
Symptoms: Coughing, Sneezing, Fever, Nose or Eye discharge, Lethargy, Lack of appetite
Treatment: Consult your Veterinarian right away if symptoms are present and isolate the dog.
Protection – Canine flu vaccine: The vaccine does not prevent the flu but significantly reduces the severity and duration of the illness.
The first vaccine is a TWO DOSE series – an initial dose with a booster 2 – 4 weeks later.
Full protection does not occur until 7 – 10 days AFTER the SECOND dose.
To maintain protection the vaccine must be given every year. (Like the human flu vaccine)
** Consult your Veterinarian for concerns and questions. **
---
We support the responsible owning, breeding, and exhibiting of purebred dogs.
We support the proper care of all dogs.
We encourage and participate in many varied dog activities.
We promote education for everyone on all aspects of responsible dog ownership and the sport of purebred dogs
We host annual sanctioned events and competitions for AKC breeds and mixed breed dogs listed with the AKC, demonstrating and promoting good sportsmanship at all times.
---
FEBRUARY HANDLING CLASSE – Tuesday
February 20th
7:00pm, OSU Ext Auditorium, 215 Ringuette St, GP
---
Anyone interested in a local Snake Avoidance Training clinic?
This type of clinic has been suggested to us and RVKC is evaluating if there is enough interest to bring in a snake avoidance trainer to run a clinic. A certain number of dogs would be necessary for this trainer to run the clinic.
If interested, please let us know. You may use this website to contact us. Click on the About Us tab and scroll down to the Contact Us section and drop us a note.
Note: This type of training uses an e-collar. We are aware that this is a controversial subject. Some folks work in the field with their dogs and consider this training, performed by experienced trainers,  to be necessary to protect their dog's lives.
---
Handling Classes
Changes or cancellations will be posted in the Announcements. (above)

Generally, the class is held the first 3 Tuesday evenings of each month at 7:00pm
Current location is at OSU Auditorium at 215 Ringuette St in Grants Pass
A $3.00 donation is requested for each class – all money goes to the 4-H program
Anyone wanting to practice Conformation showing is welcome
Help leading the class always appreciated
More information…
General Meetings
the second Wednesday
of each month 7pm
at the Fruitdale Grange
1440 Parkdale Drive, Grants Pass
** Program information in announcements above **
Public always welcome – free – no obligation!
More information…
Rogue Valley Kennel Club Speaks
The February subject is Top Dogs, Westminster
The RVKC monthly column
in the Grants Pass Daily Courier
More Information…
Contact Us
Rogue Valley Kennel Club P. O. Box 2018
Grants Pass, Oregon 97528
Contact Us…
RVKC is on Facebook (link is above in header)
---